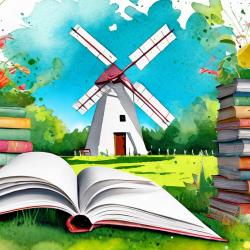 Untitled 5
Sun, Savings, and Second-hand Stories: Dive into the Summer Reads Book Fair at the Windmill!
☀️ Calling all book enthusiasts and bargain hunters! Are you on the lookout for the perfect summer read or some budget-friendly Christmas presents? Look no further because the Summer Reads Book Fair at the Windmill in Founders Heritage Park is here to fulfil all your literary dreams!
A Novel Wonderland Awaits
Step into the enchanting world of books at the Windmill, where the air is filled with the scent of well-loved stories and the promise of exciting new adventures. Our shelves are stacked high with a fantastic range of second-hand fiction and magazines, each one a treasure waiting to be discovered.
Endless Choices, Unbeatable Prices
Whether you're into thrilling mysteries, heartwarming romances, or mind-bending sci-fi, we've got something for everyone. And the best part? Our prices won't make your wallet cringe! Explore the aisles and stumble upon hidden gems—all without breaking the bank.
Daily Surprises Await
The Summer Reads Book Fair is a dynamic literary haven, with new books added to the collection every day. You never know what literary surprises might be in store for you. It's a book lover's paradise where every visit promises a new find!
Open Daily, Free Entry
We get it—nothing should stand between you and your next great read. That's why we're offering FREE entry into the Windmill every day from 10 am to 4:30 pm. So, grab your sun hat, slap on some sunscreen, and lose yourself in the pages of a captivating story without spending a dime!
Act Fast, Bookworms!
The early bird catches the literary worm, and you don't want to miss out on the best picks. Hurry down to the Windmill at Founders Heritage Park before all the good stuff disappears! This is your chance to snag some fantastic reads and unique Christmas gifts for your loved ones.
Join the Book Fair Fun!
Spread the word, bring your friends and family, and make it a literary day out. The Summer Reads Book Fair at the Windmill is not just an event; it's an experience. Dive into the magic of storytelling, bask in the summer sun, and create memories that revolve around the joy of reading.
Don't miss out on the literary adventure of the summer! See you at the Windmill, where stories come to life, and every page is a new journey.✨