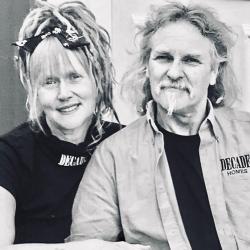 Maree & Phil Agnew
Licensed Building Practitioners | Registered Master Joiners | Handcrafted Furniture Makers
Husband & Wife Team, Phil & Maree Agnew, are passionate about Contemporary Heritage Home Transformation..  They design, manufacture and project manage using only NZ sustainable solid timber.
Come and visit them @ "The Siding Workshop", 31 The Platform Gallery Showroom, 
Phil is Decade's Director, "The Nuts n Bolts" …
A well respected "Master Craftsman" and Registered Master Joiner, who combines his craft tradition with 40 years of knowledge & experience, to create heritage style timber joinery & furniture with a contemporary twist. 
Phil is also a Licensed Building Practitioner, teamed up with Son Isaak, specialise in project management with renovation, restoration and replication in villas and heritage cottages and homesteads.
Maree is Decade's Creative Director .....
With her flair and infectious passion, will help create a stunning "3D Sketchup" visual home transformation, by integrating client personality into individual style.  It could be be any piece of furniture to fit a particular space or function, a kitchen, kitchen island, bathroom vanity, shop counter,or just a simple colour suggestion.
"Homes need to be full of treasures you love, to use, to pass down … not just full of pieces that looks good" 
She is available also for "Facetime" Consultation.
Open by appointment