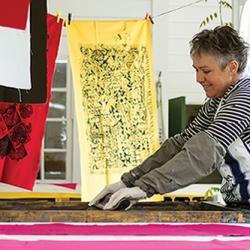 Jill screen printing texiles on the veranda of the Anchor Inn
Meet fashion designer Jill Alexander in her beautiful Victorian studio and workshop and admire her vintage inspired wedding dresses and accessories.
MADCAT Skirts are made and printed onsite, in different designs to fit all shapes.  Time it right and you'll see textile screen printing on the veranda or hanging to dry on the line of her villa courtyard.