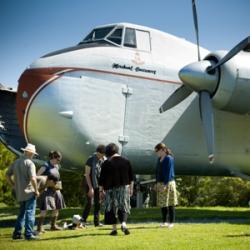 Bristol Freighter Parked Up
The Bristol Freighter, known in its heyday as the Merchant Buccaneer, was the last of the Bristol model freighters flying in the Straits Air Freight Express (SAFE) Fleet.  The Bristol Freighter sits  tall and proud on the Bristol Green. Visitors climb into the body of the plane and view the cockpit - a must for enthusiasts.
The Merchant Buccaneer was flown onto Wakapuaka mudflats on 20 November 1986 where it was stripped of its wings and tail and towed to the park.