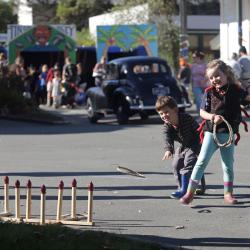 All the fun of the fair
Join us for a day full of family entertainment at Founders Heritage Fair.  Enjoy all the fun of the fair in the vintage Carnival Zone complete with side shows and old fashioned games.  Have a go at circus skills like stilt walking and juggling
Join Histrionics for interactive theatre experience to work out what happened to ex Nelson Mayor, William Snodgrass who mysteriously disappeared in 1939 . 
Meet the creative artisans who work at Founders including printer Renee Hadlow, fashion designer Jill Alexander and sculptor Fiona Sutherland.   Make sure you check out the fabulous local artwork on sale in the Atkins Gallery. 
Explore vintage vehicles, military equipment.  With ANZAC Day approaching look at the Wall of Remembrance and find out how to locate more information about those who served during WWI.  See the Operation Grapple photographic display to find out about the nuclear testing in the Pacific in the words of the veterans who served.
There's something for everyone at this year's Founders Heritage Fair
Programme:
Story Teller - 11am, 12pm & 1.30pm
Histrionix's William Snodgrass Inquest - 11.30am, 1pm & 2pm
Musician Florian Pauls - 11.30am & 12.pm & 1pm
Musician Max Suckling - 11.30am, 12.30pm & 1.30pm
Hula - 11.30am & 12.30pm 
All Day Activities:
Twisty Twinz Circus Zone
Face Painting
Fair Ground Games
Vintage Military Display
Operation Grapple Photographic Exhibition
WWI Information at the Wall of Remembrance
Train Rides & view the Steam Train
Artisans:
Renee Hadlow - printer
Jill Alexander - fashion designer
Fiona Sutherland - sculptor
Mairi Lewis-Smith - art therapist
Atkins Gallery
11.00am – 2.30pm
Adults $7, Children $2, Families $15